If there is one chocolate sponge known around the world and adored by even more, it's the brownie!
Would you like to learn to make this chocolate brownie with walnuts in your iKORE professional oven? Here is the recipe!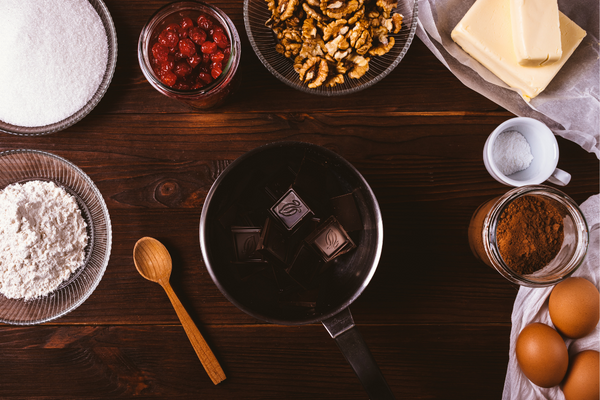 Ingredients for 2 diners:
200 g of 70% cocoa chocolate
110 g butter
4 eggs
120 g sugar
85 g wheat flour
5 g baking powder
20 g walnuts
For the brownie:
Add the butter and chocolate to a bain marie, allow them to melt and combine.
In a separate bowl, add the sugar and eggs and beat to combine.
Add the flour to the bowl and mix.
Once mixed add the melted chocolate and butter, mix well until all the ingredients are combined.
Add the chopped nuts and mix.
Coat a mould with butter and flour, add the brownie dough.
Select the smart selection: Confectionery – Brownie.
You can be sure that your diners will keep some room to be able to try this delicious chocolate brownie with walnuts!
History of a perfect culinary accident
Incredible as it may seem, many of the recipes we know and enjoy today come from previous recipes, when someone forgot something as they were intending to follow them. And the home-made brownie is a classic example.
It traces its origins back to the 19th century in the United States. What was going to be a chocolate sponge with walnuts ended up becoming the favourite of all cakes thanks to the fact that one day a pastry chef forgot to add yeast when he was making it. Result? A culinary accident that has earned itself its very own day, World Brownie Day, held on 11 November.
The first home-made brownie recipe was published in 1896 in the classic US cookery book The Boston Cooking School Book, by Fannie Merrit Farmer. A curious fact is that there is no mention of chocolate as an ingredient for brownies on any of its pages, but molasses is mentioned. It is not until 1904 that chocolate appears among the ingredients of the brownie with walnuts, in a recipe published in the Service Club Cook Book of Chicago, with the name "Bangor Brownies".
Types of brownies
This low profile cake, crispy on the outside and juicy on the inside, can be enjoyed in many ways.
The most typical is the chocolate brownie with walnuts, which you can enjoy cold or hot (even better with ice cream), but we find many kinds of brownies throughout the world's cuisines. White chocolate brownie, without walnuts, with almonds or pistachios, caramel sauce brownie, oatmeal brownie, there's one for every taste and type of cooking!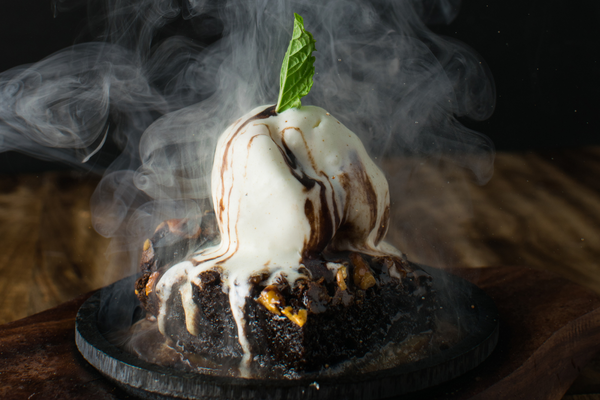 Tricks for an easy and delicious brownie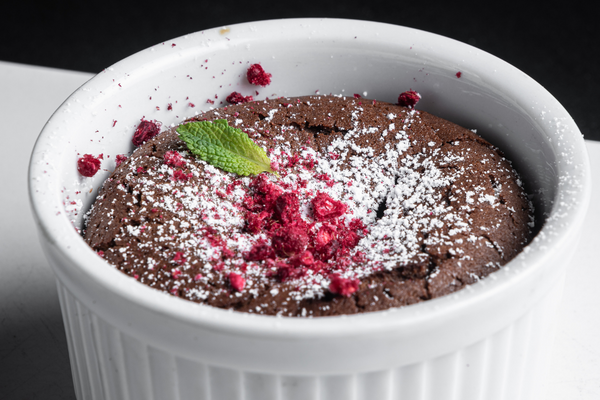 Want to know some tricks to get an easy and delicious brownie with your industrial oven?
As well as following all the steps of the recipe we bring you today, it is important to keep an eye on the baking. To get that crispy finish on the outside and tender on the inside, it is important to stick to the ideal baking time for each recipe, which can vary from 20 minutes to an hour. What's more, to make sure your guests will remember it, factor in this time to serve it hot – delicious!
The crunch brownie is one of the significant elements of this recipe that we get with the walnuts. If you want to be faithful to the original home-cooking recipes, then you can opt for macadamia or pecan nuts, although nuts from Castile will always be a good ally in the recipe. Although, if you prefer, you can use another type of nuts, such as hazelnuts, almonds or pistachios.
As the saying goes in Spanish, food enters through the eyes, so, last but not least, pay attention to the presentation. As well as serving it hot, give some thought to the plate you serve it on. Whether served in individual tubs, as we present it to you today, or you make a single large brownie and serve it in small pieces that you carefully cut up, make a good presentation so that your dinner guests enjoy the taste, the aroma and the sight.