A few weeks ago we explained how to fit out a restaurant for 40 diners, and today we take a closer look, with details of the most appropriate cooking equipment for this sort of kitchen. As we mentioned earlier, for the chef, the most important aspect is that their equipment offers the best performance possible while optimising on space. The 700 range cooking block is the most used in this type of installation, thanks to its capacity and the possibilities it has to offer.
In kitchens with a small surface area the best solution is to design a wall cooking block (that reduces the depth of the machines), complementing the equipment with a combined oven. It is advisable to install the block and the combined oven in line so that the same extraction hood, if fitted, can be used for the whole line of equipment. It is also a good idea to use the lower zones of the block for storing pots, pans, etc.
The kitchen block equipment should be installed depending on the dishes to be offered in the menu. Consequently, different options may be suggested when mounting the block: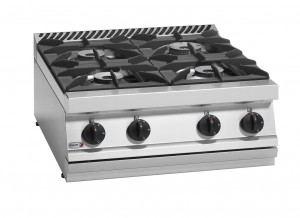 Cooker with 4 burners: This unit is highly versatile as it offers the possibility of preparing soup, sauces, stews and pulses in pots and casseroles, having them ready for serving at a later stage, as well as allowing the preparation of scrambled eggs and fried food ready for immediate serving. The size of the burner grills permits the use of cooking pots and pans of up to 32 cm in diameter, with capacities of up to 24 litres:
A 5.25 kW Fagor burner brings 13 l of water to boil in 32à  It produces 40 portions of soup (330 ml/portion) in 1 hour.
A 6.90 kW burner brings an 18 l pot of water to boil in 28à  It produces 54 portions of soup (330 ml/portion) in 50.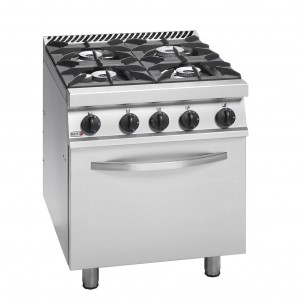 Cooker with 4 burners and oven: In addition to the features offered by a four-burner hob, we have a static oven, with a capacity for GN-2/1 trays and with thermostatic control. The oven enables the preparation of roasts, fish, pastries, etc. By way of a guideline: a GN-2/1 tray has capacity for 12 chickens, so that 12 whole chickens (48 portions) can be roasted in the oven in this kitchen in one hour.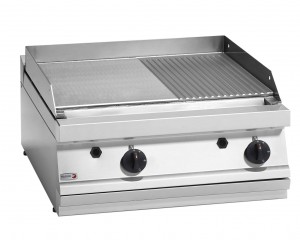 Fry-top: The fry-top roasting plate can be made with a flat surface, or a half-grooved surface to give a special finish to roast meats and fish. The plate from one module from the 700 range has an area of 38 dm2 (69 x 55 cm) with a heating-up time (roasting temperature of 300 °C) of 40 minutes. After this time, the plate can cook approximately 24 fillet steaks or hamburgers weighing 200 grammes each in 7.5 minutes.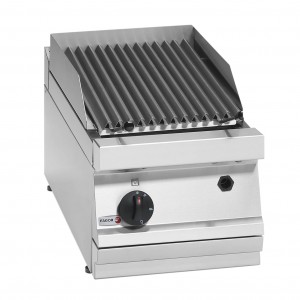 Barbecue: One option in many restaurants is to substitute the grooved plate with a barbecue for roasting braised meat. The half module grill from the 700 range has a surface area of 18 dm2 (32 x 55 cm). An estimated production would be 12 x 200 g fillet steaks or hamburgers in 7.5 minutes. The grill can be made from cast iron, for those who like traditional roasting, or in stainless steel, with grooves to collect the roasting fats and to prevent them dripping onto the embers.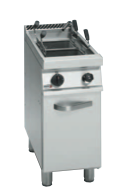 Pasta cooker or two-burner cooker: The pasta cooker is a highly popular piece of equipment in many regions or countries. The tub takes different sized baskets (1/1, 1/2, 1/6) for cooking different types of pasta (macaroni, cannelloni, spaghetti…). The tub is filled with water through a valve, and the cooking temperature is controlled by thermostat.
Fryer: A 15 litre fryer, with one basket for the whole vat or two half baskets, allows the quick preparation of various fried foods, which may form part of the starter dishes on the menu. Each vat from the 700 range has a capacity of 15 litres of oil and the baskets can hold 3 kg of product (large basket) or 1.5 kg (small basket). An estimated production would be 20 kg of chips in one hour.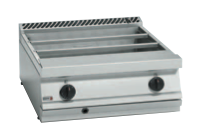 Bain Marie: This element, equipped with small Gastronorm serving containers can be used to keep previously prepared sauces and garnishes warm ready for serving with the main course meat and fish dishes.
Direct flame pan: This machine is installed when the same dish is cooked for a large number of diners: soups, stews, purées, etc. The direct or indirect heating (over bain marie) versions are selected depending on the usual requirements of the business. The cooking pot in the 700 range contains 80 litres of water, taking approximately 50 minutes to reach the boil and with a cooking time of 10 minutes. An estimated production would be 240 portions of soup (330 ml/portion) in one hour.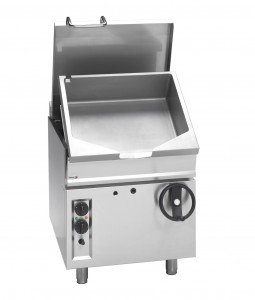 Tilting Bratt pan: As with the cooking pot, this appliance is intended for use when preparing the same meal for a large number of diners. The tilting Bratt pan in the 700 range has a water inlet tap and a thermostatic temperature control up to 315 °C. It can also hold up to 50 litres of water and can be used as a normal cooking pot as the surface area of the pot is 38 dm2 (the same size as the fry-top). An estimated production would be 280 fried eggs in one hour.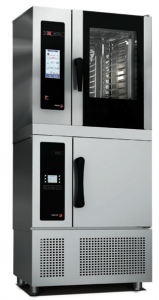 Combined ovens: The combined oven is the perfect accessory for the cooking block. It allows different foods to be cooked in short time periods at the same time. It can be used for all types of meat and fish, pulses, vegetables and potatoes, roasted or steamed, and for preparing desserts. In some cases it may be advisable to complement the oven with a chill blaster (Cook & Chill equipment) to prepare the weekends menus in advance and to have dishes already prepared. An estimated production would be 72 portions of chicken in 40 minutes, using 3 trays with 6 chickens on each one (1 chicken à  4 meals).
If you want more information about get the most out of your 700 range cooking block click here