If there is one cake that cannot be missing from the recipe book of professionals in the hotel and catering industry, it is carrot cake. A delicious carrot cake with which dessert lovers can end a splendid meal. Making it in your professional oven has never been so easy, here is our carrot cake recipe so you can delight your guests!
What ingredients do you need to make a fluffy carrot cake for 2 in your iKORE professional oven?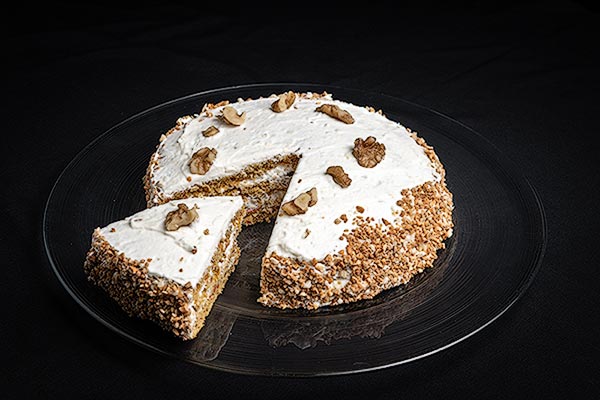 280 g Plain flour
350 g Grated carrot
4 Eggs
300 g Brown sugar
250 g Butter
3 g Cinnamon
3 g Ginger
3 g Nutmeg
1 Clove
7 g Baking soda
14 g Baking powder
3 g Salt
300 g Mascarpone cheese
300 ml. Cream
250 g Icing sugar
50 g Butter
5 ml. Vanilla
Follow these steps to make the sponge cake:
Thoroughly clean the carrots.
Dry, peel and grate them, and set aside.
Mix the carrots with all the dry ingredients.
Sieve the flour, bicarbonate of soda, baking powder and spices (cinnamon, a clove, nutmeg and ginger) into a large bowl.
Place the brown sugar and eggs in a separate bowl, and whisk until pale and thick.
Little by little fold in the dry ingredients, add the carrots and the butter (softened).
Mix until smooth.
Pour the mixture into a greased cake tin and manually select:

Convection – 180ºC
Humidity 50%
Fan 4
45 minutes.

At the end of the cooking time, remove the sponge and allow to cool in the tin for about 10 minutes on a wire rack.
Follow these steps to make the best carrot cake frosting:
Mix the previously softened butter with the mascarpone cheese and the vanilla essence, then add the sugar.
Whip the cream, and fold into the mascarpone mixture.
Follow these steps to assemble:
Cut the sponge in half, fill with part of the frosting, and then use the rest to cover the whole of the cake or just the top.Use some of the frosting to decorate if desired, using an icing gun with a star shaped nozzle.
The amount of frosting you need will depend on whether you want to cover the whole cake, or just the top.
Decorate with ground walnuts if desired.
Now you have the best carrot cake to sweeten the after-dinner conversation of your customers!
Carrot cake, a medieval recipe
Nowadays, carrot cake is a dessert that is eaten all over the world. Pastry shops, cafés, bars, restaurants… Many hospitality businesses have a delicious carrot cake on their menu for their customers to indulge in their sweet tooth. However, although it is a recipe known by many professionals (and not), it is not very clear what the real origin of the carrot cake recipe is.
We can say that this cake has most likely been eaten since the Middle Ages. There are different details that lead many experts and historians to confirm this theory, given that, during this period in Europe, and due to the high cost of sugar, carrots, pumpkins and beetroot were used to replace the sweetener when making different cakes and puddings. There are references to carrot pudding, for which carrots were simmered in order to accentuate their natural sugars, the cooked carrots were mashed and then spices, flour and eggs were added. The recipe eventually evolved into a typical dessert and sweet that emigrants brought to the United States centuries later, making it the star sweet of American cuisine.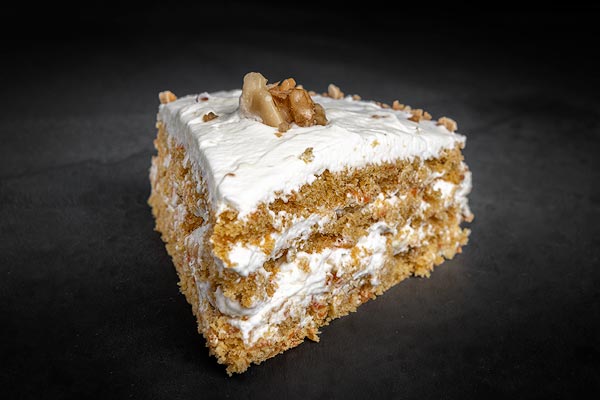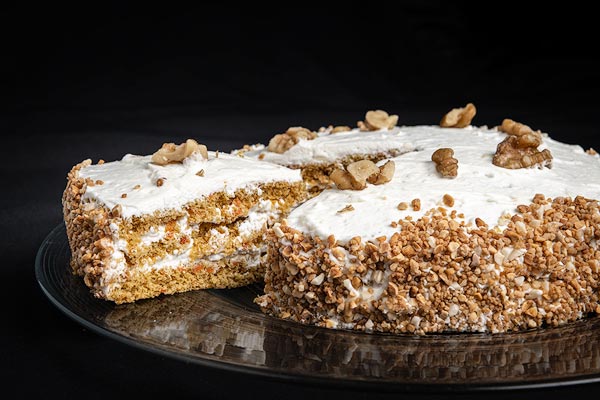 In 1814, the second volume of "L'art du cuisineinier" by Antoine Beauvilliers, the former chef to Louis XVI, included the recipe for "Gâteau de Carottes", a recipe that became so popular it started to appear in competing cookery books. He subsequently translated this book into English in 1824 so that it could be published in the United Kingdom. It is here where it became popular after the Second World War.
3rd February, International Carrot Cake Day
Carrot cake is so famous that it even has its own day of celebration. International Carrot Cake Day is celebrated every year on 3rd February. There is no record of the reason for celebrating this day, but it all started in the USA, when they decided that the 3rd of the second month of the year was the day to honour this cake that always leaves such a good taste in the mouth, and which has so many variations. Whether you like it with or without nuts, with or without frosting, this spongy carrot cake recipe is sure to impress your customers.