There is currently a huge selection of containers available in the market, used to prepare, cook, carry, display and serve food. Today, on the Fagor Professional blog, we take a look at the food storage containers we normally use in our industrial kitchens and the ones most frequently used in the catering sector: the Gastronorm food storage containers.
All the Gastronorm food handling and storage containers comply to the EN-631 culinary standards (standard establishing materials and articles in contact with foodstuffs) and meet certain quality and size requirements. These requirements are essential to be able to use the containers and to ensure perfect conditions and hygiene, both for the refrigerated cabinets of an industrial kitchen, and for the ovens, deep fryers, work tables… In addition, the application of this standard allows the number of recipients used in the catering sector to be reduced and thus improves the capacity of all types of industrial equipment.
Food storage and handling containers are a standard item in industrial kitchens, in restaurant buffet counters, in ice-cream parlours and industrial dining rooms. They are also used in companies engaged in the food distribution business and catering firms.
Before purchasing food storage containers, it is essential to consider the type of product to be stored and handled, as this factor has a direct influence on the choice of one container or another. It is also important that all the containers are stackable, as available physical space in many industrial kitchens is reduced.
Principal characteristics of the Gastronorm industrial containers:
Gastronorm industrial containers are usually highly versatile. For those who have never heard of them, it is worth mentioning that this system has a base tray called GN 1/1 (530 x 325 mm) with depths of between 20 and 200 mm. From this base measurement, the Gastronorm system has sub-divisions known as: GN 2/3, GN ½, GN 1/3, GN ¼, GN 1/6, GN 1/9. Moreover, these all have different depths that adjust to the needs of each customer (20, 40, 65, 100, 150, 200 mm).
Typology and size of the Gastronorm industrial containers: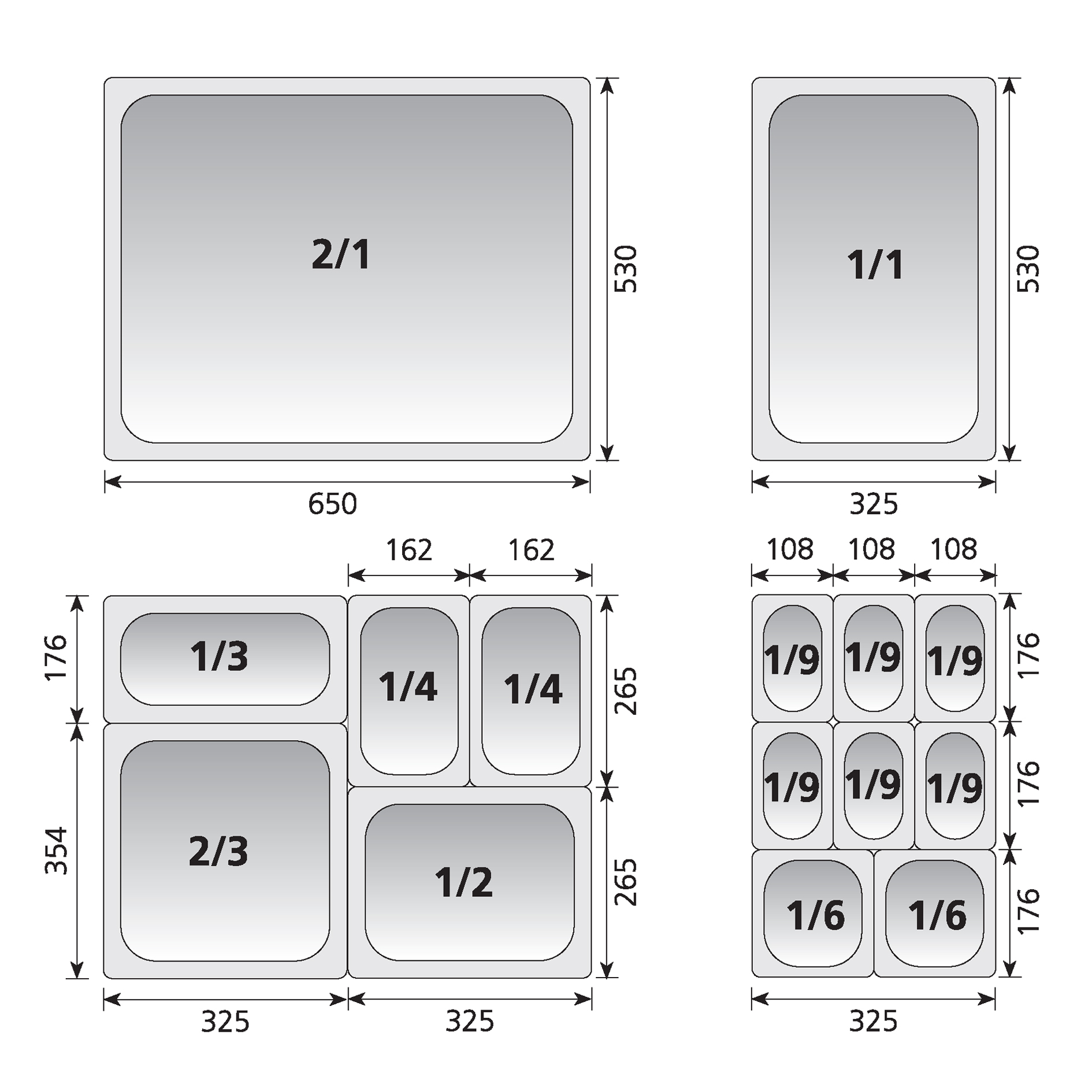 In the professional catering sector, stainless steel is the most frequently used material thanks to its high durability, hygiene and ease of cleaning, but Gastronorm industrial containers may also be manufactured in food plastic, polycarbonate or polypropylene.
The stainless steel containers offer a variety of solutions. There are smooth containers, with or without handles; perforated (especially for defrosting products); containers with non-stick bases (especially for use in ovens) and containers for ice-cream.
Choose the containers you need in your industrial kitchen and handle your food with a high level of safety and hygiene.