Let's sweeten up the weekend! No breakfast is complete without some delicious madeleines (also known as muffins). This is a sweet treat that brings back memories of grandma's homemade muffins, which are so popular with young and old alike.
Served with coffee, tea or on their own, prepare this recipe for fluffy muffins in your iKORE professional oven to get your guests' morning off to a good start.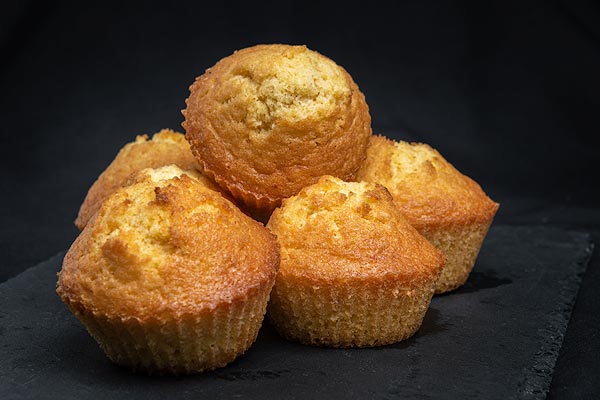 What do we need to make these quick and easy muffins for 10 guests?
180 g butter
200 g icing sugar
5 eggs
10 g lemon zest
10 g baking powder
200 g flour
2 ml vanilla essence
Steps for making the muffins:
Soften the butter. Beat together the sugar and whole eggs until thick and creamy.
Add the lemon zest.
Next add the sifted flour, well mixed with the baking powder.
Fold in carefully without overworking, and finally add the butter.
Leave the batter in the fridge to rest for 15 minutes.
Fill the moulds ¾ full and program the oven manually:
Convection 200ºC
Humidity 10%
Fan 4
Time: 10 minutes.
Origin of madeleines (called magdalenas in Spanish)
Madeleines are one of the most typical sweet treats mainly in Spain and France, as well as being very popular in Latin America. There are two theories about their origin, both of which are valid for the fame of the recipe for fluffy homemade madeleines in both Pyrenean countries.
The miniature sponge cake may have originated in France in the mid-18th century, when the Polish monarch and Duke of Lorraine, Stanislas Leszczynski, welcomed guests to one of his castles. To surprise them, he ordered one of the kitchen staff to prepare a special dish. So the cook, Madeleine, made this little sponge cake. They were so delighted that Stanislas himself christened the recipe 'Madeleine', in honour of its creator. It did not take long for the recipe to reach every corner of France.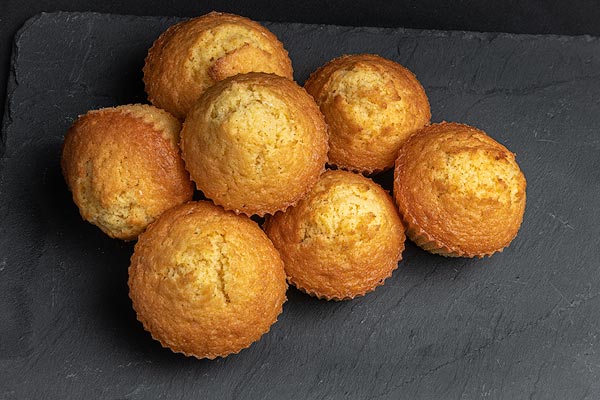 The second theory is that the origin of the madeleine recipe is to be found in Spain, specifically along the Way of St. James to Santiago de Compostela. It is said that a young woman called Magdalena was in charge of handing out these shell-shaped cakes to the pilgrims. Due to the pilgrims' long journeys, they spread this sweet treat to the rest of the country.
Experts favour the first theory, without undermining the credibility of its possible Spanish origin. It is very likely that this second theory is true to the extent that Magdalena made the recipe for homemade sponge muffins (already popularised) in the shape of a shell to honour the symbol of the Way of St. James. Hence, the spongy muffins we know today began to be popularised in the typical marine shape.
There are countless variations to make a delicious recipe for sponge muffins. Beyond flour, sugar, butter, baking powder, eggs and lemon, there are muffins for all tastes and flavours. All of which are always presented in their rounded shape and wrapped in fluted paper, from which it is very easy to take them out to enjoy their flavour.
The most popular in recent times are yoghurt muffins, blueberry muffins and banana and oat muffins, but we cannot forget a great classic: chocolate muffins. And if you want to sweeten this typical dessert a little more, there is nothing a few chocolate chips can't fix.
For some years now, muffins (an anglicism that has been adopted in Spain to refer to these delicacies), and especially chocolate muffins, have been present in the pantries of most homes, bars, restaurants and hotels, as they are one of the favourite desserts of young and old alike.
That's why this recipe for fluffy muffins that we bring you today for your iKORE professional oven can also be made by adding some chocolate chips. There is nothing better for guests to start the day off right!