For many it is surely one of their favourite dishes, after all, is there anything better than a good meat pasty? A typical dish that is versatile and full of flavour, to ensure that your guests enjoy a delicious meal. Do you want to learn how to make this minced meat and vegetable pasty recipe in your iKORE professional oven? We will help you!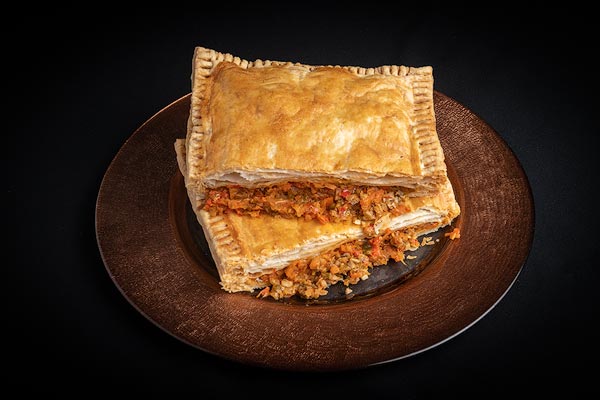 What do we need to prepare this meat and vegetable pasty for 2 people?
300 g minced meat
150 g onion
100 g green pepper
50 g tomato
2 garlic cloves
2 g black pepper
11 g salt
30 ml EVOO
500 g flour
250 ml lukewarm water
75 ml frying oil
20 g yeast
4 g sweet paprika
1 beaten egg
Steps for making the filling:
Dice the onion and pepper and poach them in the oil.
When they are cooked, add the diced tomato and the minced meat then season with salt and pepper.
Once everything is done, drain the oil and leave to cool before making the dough for the pasty.
Steps for making the dough:
Add the flour, salt, yeast diluted in warm water and the rest of the water to a bowl. Knead until a uniform dough is formed, then add the frying oil and the paprika. Leave to prove until it doubles in volume.
Divide the dough into 2, roll out with a rolling pin on a floured surface into the desired shape, 2 mm thick at the base, and line a baking tray. Spread the filling on top of the dough then roll out the lid and cover the pasty, pressing the edges tightly together, and decorate with any leftover dough. Make a hole in the centre so it can breathe.
Brush with the beaten egg.
Make the Smart selection:
Bakery
Pasty
Fine Thickness
Medium golden brown.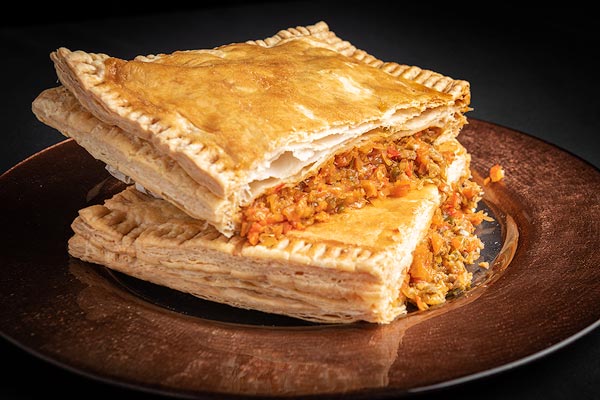 That's it! You now have your freshly baked meat and vegetable pasty that is ready to be enjoyed by your guests.
Meat pasty filling
When it comes to oven-baked meat pasties, we can't help but ask: what is the best meat for oven-baked pasties?
We will always recommend that a trusted butcher offers the best option based on the recipe, although in our opinion, veal shank and veal shoulder are a good choice. However, you can also use minced pork, a mixture of veal and pork, or minced chicken.
It is also true that, thanks to our dry-ageing cabinets, you can obtain a piece with great culinary qualities and freshness at the very moment you get down to work with the recipe thanks to the precise cold, humidity and ventilation conditions that soften its texture while concentrating its flavour.
Let your guests enjoy the minced meat pasty recipe the way they deserve!
Types of oven-baked pasties
The pasty is a typical dish from various cuisines around the world that can be enjoyed in different ways. Whether freshly baked, warm or cold, this dish, which can also be eaten as a side, will be sure to impress everyone.
All over the world there are different recipes for filled pasties: meat pasties, chicken pasties, tuna pasties, vegetarian pasties, ham and cheese pasties… Depending on the country, they may have different ingredients and sizes, from the typical Galician empanada to Argentinian empanadillas, Italian calzone or Japanese gyozas.
Empanadas in Spanish gastronomy
When we talk about Spanish gastronomy and homemade pasties, the delicious Galician empanada comes to mind.
Whether it contains fish, meat, seafood or vegetables, the multiple combinations that can be found will impress everyone, as there is a recipe for every taste or food preference.
The most typical pasty is the minced meat, the same recipe we have presented today in this blog post. A succulent dish that is full of flavour.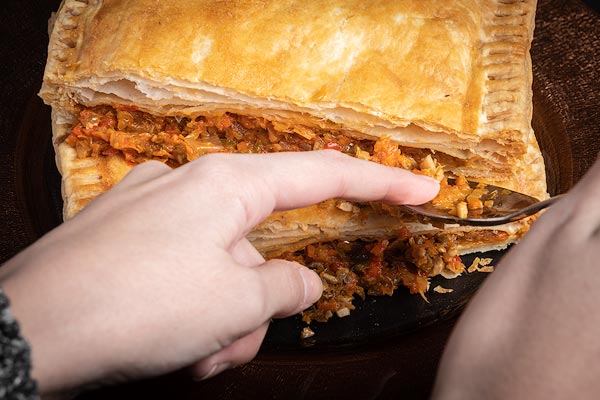 Argentinian empanadillas
When we talk about Argentinian empanadas, we are talking about tasty morsels that will delight anyone. It seems that this recipe arrived in Argentina via Spanish immigrants, who adapted their homemade pasty recipes to their new life overseas.
That is why there is a wide variety of empanadilla recipes in Argentina today, which can be either baked or fried, and whose dough is generally made with flour, fat, salt and water. Traditional recipes include the empanada salteña, made of meat, egg, onion and potato; the empanada tucumana, which is the same as the previous one, but without potato; as well as the traditional ham and cheese or vegetable.
Colombian empanadas
Colombian empanadas have a Spanish and African influence due to the country's history.
A fried dough made of corn or wheat flour is usually wrapped around a filling made of different combinations of ingredients such as meat, chicken, potato, rice, egg or vegetables, and they are usually served with lime, guacamole or chilli, among other sauces.
Venezuelan empanadas
The origin of the Venezuelan empanada can also be found in Spanish gastronomy, mainly in Galicia.
The list of possible fillings for the dough, which is mainly fried and made from corn flour and, occasionally, wheat flour, is extensive. The inside can have minced or shredded meat, dogfish, pork rinds, vegetables, cheese and even sweet pasties with guava or banana.
Mexican empanadas
Unlike the previous homemade empanadas made in Latin American countries, Mexican empanadas have their origins in English gastronomy, specifically in the meat and potato filled pasty.
The evolution of the recipe over the last two centuries has given rise to the pasty, a shortcrust pastry filled with meat and potato to which the typical Mexican spice has been added, as well as creating another variant: the beans and chorizo pasty.
On the other hand, we still see the traditional empanadas in Mexico, filled with a wide variety of ingredients from the typical mole (Mexican sauce usually made from fruits, nuts, chilli peppers and spices) to rice pudding.
Whatever ingredients you choose to prepare your pasties in the iKORE professional oven, you are sure to create your own recipe book of oven-baked pasties.