The tilting Bratt pan is an appliance of huge versatility in the catering sector if used correctly. Tilting Bratt pans have different functional elements: a tilting pan, an adjustable thermostat ranging between 50 – 315 °C and a water inlet tap for filling the pan. When each of these components is used correctly, the tilting Bratt pan has three different functions:
As a fryer: Fill the pan to a certain level with oil to deep-fry fish, croquettes, eggs, etc.
As a fry-top: Thanks to the temperature reached on the bottom of the pan, it can be used as a roasting plate or for grilling fillet steaks, prawns, hamburgers, etc. The surface area of the pan at the base and the operating temperature give it the properties of a fry-top.
As a cooker pot: Thanks to the filler tap fitted on the pan, it can be used as a direct flame pan, holding 80 litres of water, and used to prepare stews, pulse stews, soups, rice, etc.
At Fagor Professional we market two types of tilting Bratt pan which are the perfect accessory to two of our cooking ranges:
 Tilting Bratt pan SBG9-10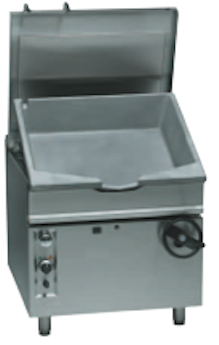 This pan is usually combined with equipment from Fagor Professional's 900 cooking range. It has a surface area of 50 dm2 and a pan capacity of 80 litres. Some of the guideline production capacities that can be produced with this tilting Bratt pan are as follows:
450 fried eggs / h
280 grilled fillet steaks or hamburgers/hour
50 kg/h of meat balls in sauce  (250 portions /h)
40 kg/h of medallion steaks in sauce  (200 portions /h)
175 portions/hour of rice (40 litres of water + 12 kg of rice + 10 kg of complementary ingredients)
250 portions of soup
Tilting Bratt pan SBG7-10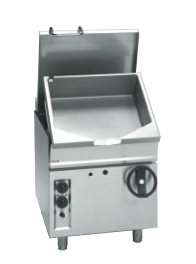 This pan is usually combined with equipment from Fagor Professional's 700 cooking range. It has a surface area of 42 dm2 and a pan capacity of 50 litres. Some of the guideline production capacities that can be produced with this tilting Bratt pan are as follows:
280 fried eggs / h
175 grilled fillet steaks or hamburgers/hour
30 kg/h of meat balls in sauce  (150 portions /h)
25 kg/h of medallion steaks in sauce  (125 portions /h)
110 portions/hour of rice (25 litres of water + 7.5 kg of rice + 6 kg of complementary ingredients)
150 portions of soup