Cantilever system
---
The commercial cantilever blocks facilitate customisable device distribution according to the needs of each client. For this we have two types of installations: wall-based and central. The cantilever solution takes into account the location of the connections so that they are hidden from view.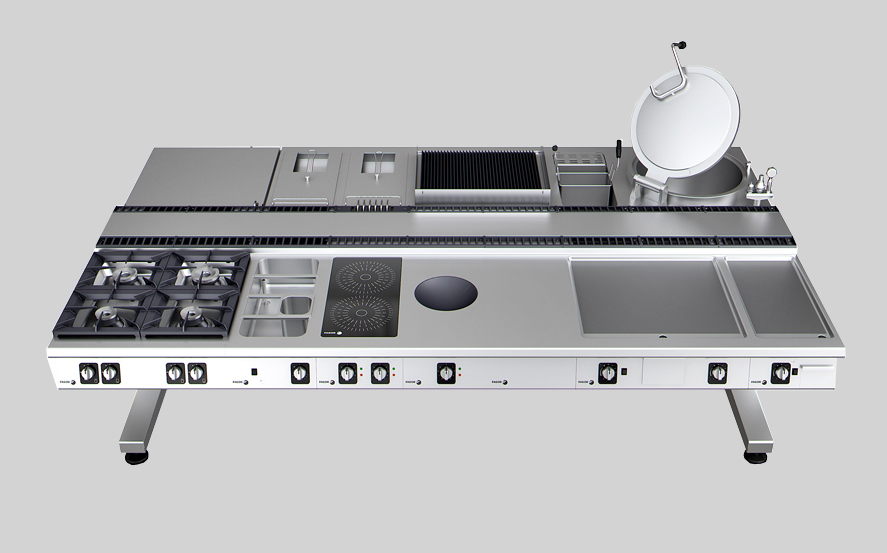 01
Cleaning
The fact that the devices are suspended facilitates the cleaning of the bottom of the machines.
The components of the cantilever kits are made of AISI-304 stainless steel, which guarantees a long life and compliance with the IPX5 standard.
02
Design
Cantilever system designed to provide the kitchen professional with improved comfort and ergonomics in their daily work.
Central blocks with central support shelf designed to accommodate accessories for the cooking block.
03
Construction
Each kit consists of support modules made from 4 mm AISI304 stainless steel profiles, support arms for supporting machines made of AISI 304 stainless steel, rear supports also manufactured in AISI 304, in addition to side and front closing panels and support feet.
Bizimle iletişime geçin
Bu ürünle ilgileniyor musunuz? Bu ürün veya başka ürünler hakkında daha fazla bilgi almak için bizimle iletişime geçin