Blast chillers
Return to Ovens - Cook & Chill
THE IMPORTANCE OF USING BLAST CHILLERS
Commercial blast chillers are machines designed to quickly lower the temperature of food, so that they can go from 90 ° C after being cooked, to a cooling temperature of +3 ° C in a maximum of 90 minutes, thus preventing the multiplication of bacteria.
Our different ranges of mixed blast chillers with built-in freezing cycles can lower the temperature of the product to -18 ºC in just 4 hours, thus achieving fast freezing of the food, meanwhile avoiding an increase in bacterial flora and the formation of macrocrystals.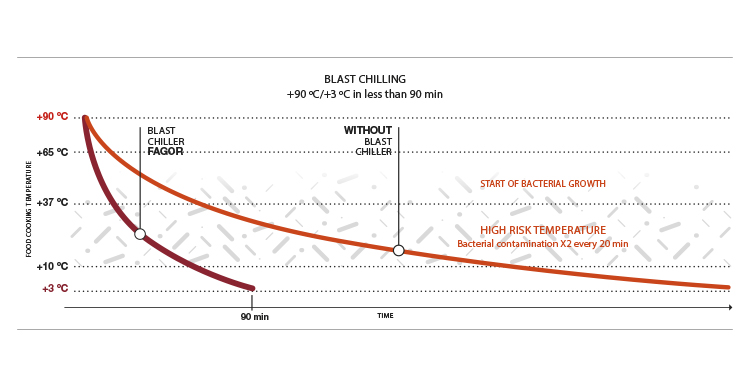 CHILLING PROCESS - CHILLING CYCLES
Soft cycle (standard) - 90 minutes
This cycle is suitable for soft, light or delicate food which is small in size or volume.
Hard cycle (intensive) - 90 minutes
It is suitable for high density or heavy produce, as well as for preparing food for packaging.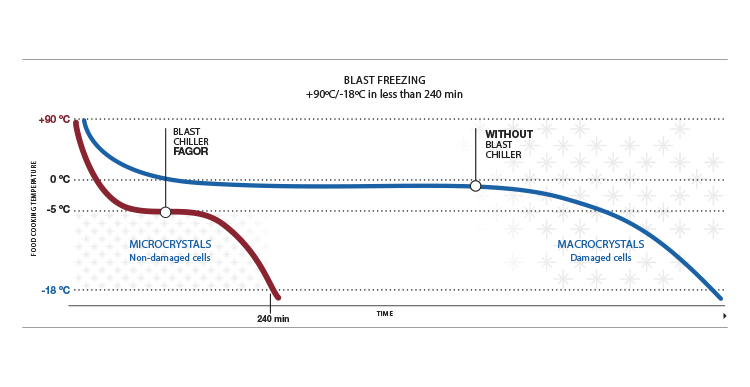 CHILLING PROCESS - FREEZING CYCLES
Soft cycle (standard) - 240 minutes
This cycle uniformly freezes the produce making it suitable for foods which must not be subject to sudden changes in temperature, or which contain a variety of ingredients.
Hard cycle (intensive) - 90 minutes
It is the perfect cycle for freezing semi-finished dishes. It is also suitable for raw produce. It facilitates the stocking of frozen produce over a long period of time, which can be used over the course of the year.
Contact us
Are you interested in this product? Contact us for more information about this or other products.