Self-service
Return to Distribution

Flexibility to adapt to all spaces.
Whatever your foodservice segment -corporate, education, healthcare or commercial- Fagor has a self-service solution that turns your dining room into an elegant, comfortable and efficient space, so that the guest's experience is unique.
To this end, Fagor has developed Self-Suite, a complete range of standardized self-service elements, that includes multiple customization options in designs and materials, to adapt to all kind of spaces and menus.
Flexibility to adapt to all spaces.
---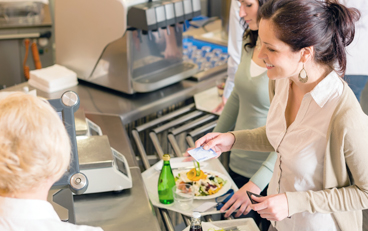 01
Tempting the appetite
Large 360º glass surfaces that create a feeling of transparency.
LED lighting that enhances food presentation, creating a seductive experience that arouses the appetite of the most demanding guests.
In addition to their functional and technical features, Self-Suite elements play a key role as decorative objects that confer personality and identity to the dining area.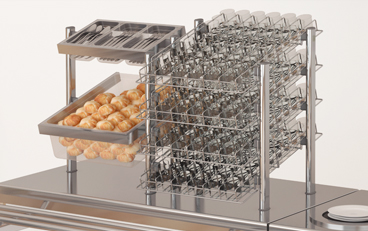 02
Achieving the perfect service
Ergonomic quality, a comfortable work space for the operator employees.
New compressors that reduce ambient noise, vibrations and heat in the dining room. Complete suppression of noise, vibration and heat by using remote group elements.
So that the guest's experience is unique
With its open and ergonomic design, Self-Suite elements guarantee easy and simple access to the products displayed, resulting in faster and more agile dining services.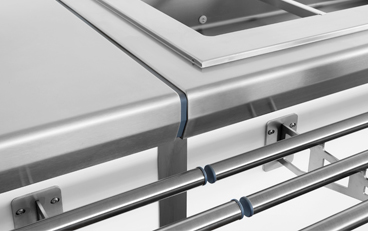 03
Robust and reliable
A range designed to last
The structure and worktop of items in the range are made entirely of stainless steel, offering great resistance and durability in daily work.
Robust philosophy
... everything in stainless steel.
Easy to clean.
Rounded design for supports and tray slides.
Worktop with optional scratch-resistant vibratory finish. Removable draught excluder for refrigerated cupboards. Vats with rounded edges.
Silicone seal
Suitable for food use. It ensures watertightness, prevents the accumulation of food particles between the equipment and guarantees easy access for cleaning.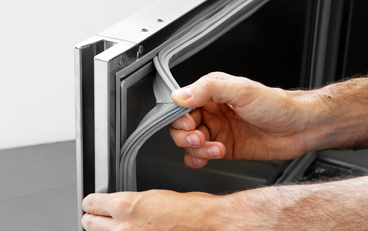 04
Installation and maintenance
Effortless maintenance
Condensing unit mounted over sliding rails as an option. Junction box, housing electrical connections, providing access to the power supply. Electrical components in a single, easy-access point.
Compliance with food regulations
The front panels of the equipment are made of water-repellent medium density fibreboard (MDF) and are M1 fire rated.
The glass used in the range is tempered glass for greater safety. The sockets have an IP55 water protection rating. The equipment complies with European CE labelling standards.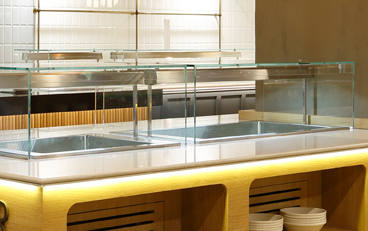 05
Product conservation
In the best possible conditions
The main technical function of the Self-Suite elements is to maintain the temperature of exposed food within the established range to minimise the risk of bacteria spreading.
Maximum freshness of exposed food via ventilated Self-Suite elements.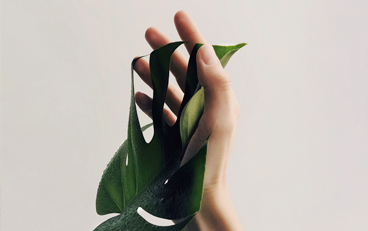 06
Efficient and environmentally friendly
New, more efficient refrigeration components:
compressors with low energy use, high-performance electrical evaporators and ventilators. Delayed start-up function on refrigerated elements. Olefin hydrocarbon (HFO/HFC) refrigerant gas R452a with a very low global warming potential (GWP).
Automatic defrosting and evaporation of defrost water with optional level detector. Lighting with LED technology. Optional automatic filling function with level detector to save water. Compliance with guidelines on Waste Electrical and Electronic Equipment (WEEE), promoting recycling to reduce environmental pollution.
Dispensers
---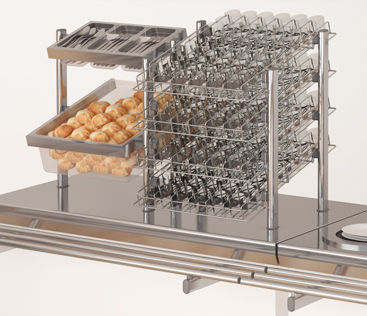 1
Tray dispenser bases, dispensers for bread, trays, cutlery, plates and glasses
Neutral elements
---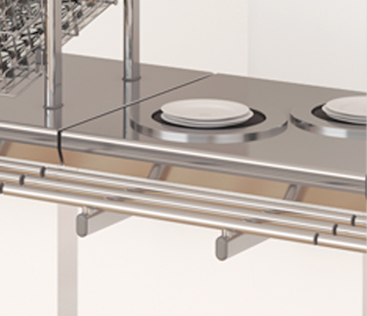 1
Neutral elements specially designed to hold, display and distribute food at room temperature
2
Muebles de ángulo para unir otros dos elementos formando un ángulo.
3
Dispensador de platos y cestas.
4
Muebles fachada para colocar carros en su parte posterior.
Foodshields
---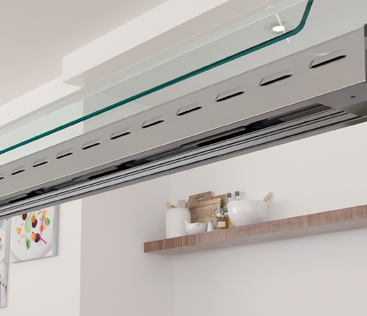 1
Square or round foodshields. Elements from 2 to 6 GN 1/1 (except in some cases). Light and heat foodshields for refrigerated and hot elements of the range. Neutral brackets for glasses. Heat retaining foodshield.
Glass
---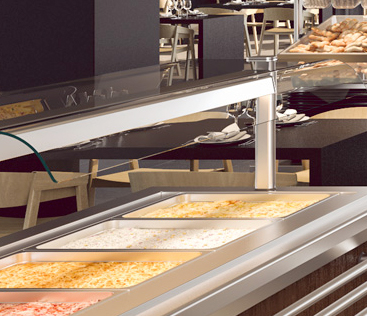 1
Straight or curved glass. Elements from 2 to 6 GN 1/1. With central, front or closed protection.
Accessories
---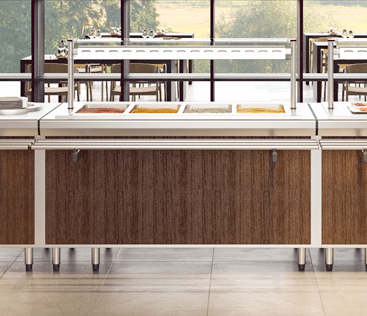 1
ESN | ESF | ESC
Intermediate shelf accessory for neutral (N), cold (F) or hot (C) elements.
2
IPCIC | IPCTD | IPCTI | IPCTD-C | IPCTI-C
Digital thermometer kit for foodshields.
3
KUV
Germicidal lamp for ventilated wells and displays.
4
Defrost water evaporation kit from 3 to 6 GN 1/1.
5
OF-PAN
Overflow pan for defrost water.
6
PAL-DROPIN
Tool to lift technical elements.
7
DBFLI | DBFLD
Final decoration of the line.
Contact us
Are you interested in this product? Contact us for more information about this or other products.