Ice makers
Return to Commercial refrigeration
A WIDE RANGE OF TYPES AND SIZES OF ICE
Oversized condenser machines, perfect for hot climates, both in the air-cooled and water-cooled version. The ice making system is simple and reliable, designed for areas with very calcareous water and difficult working conditions.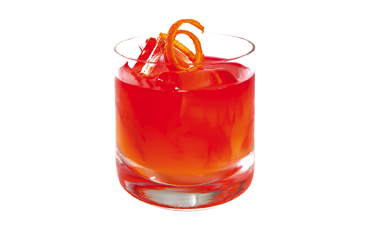 01
Versatility and flexibility
We have a complete range of industrial ice machines to meet any needs in terms of catering, hotels, supermarkets, sports medicines centres, etc. They provide ice cubes of different shapes and sizes corresponding to the needs of each end customer, as well as granulated ice or flake ice. For large-scale production, we have modular stackable machines and large isolated ice-storage silos.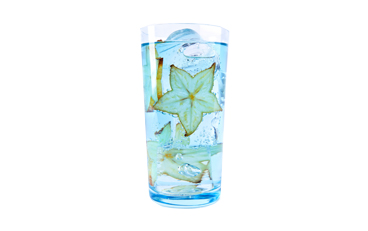 02
Technology and reliability
The machines are tropicalised to guarantee proper operation including at high temperatures (up to 43 ºC). Electric panel with temperature probes to regulate both production time and quantity of ice stored.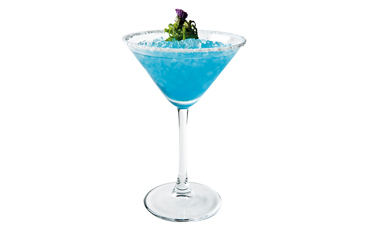 03
Simplicity, robustness, reliability
The AISI-304 stainless steel body can be easily removed in panels, permitting access to all the machine components.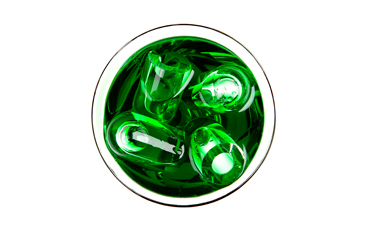 04
Hygiene and cleanness
There is a cleaning button or function that facilitates maintenance, depending on the model, enabling water circulation without refrigeration and descaling of calcareous elements. With all the required health and hygiene guarantees.
05
Efficiency
The high density insulation ensures quality and optimised energy use.
06
Ergonomics
A design that ensures improved access to all components, facilitating installation and maintenance work.
07
Ecology
All the machines are 100% recyclable, since they can be completely dismantled and their components can be recycled.
ICE CUBE MAKERS FOR SOLID ICE CUBES
---

Crystal and compact Gourmet cubes slowly cool the drink for a long time before melting. The large and compact Gourmet ice cube is the most desired cube by professionals and consumers. It is perfect for use with soft drinks and spirits. The ice cubes melt very slowly, allowing customers to enjoy their cold drinks for longer.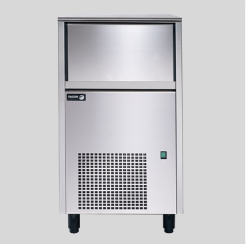 1
SPRAY SYSTEM
Flexible injector system for better performance in hard water.
ICE CUBE MAKERS FOR HOLLOW ICE CUBES
---

Hollow cubes that quickly cool the drink thanks to their increased surface area. Manufactured by high-performance electromechanical machines using state-of-the-art vane technology, indicated in case of hard water (calcareous) even without a filter. New evaporator design for excellent performance in hard water.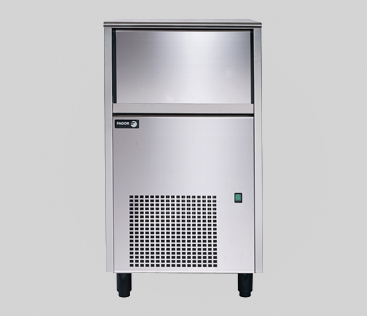 1
PADDLE SYSTEM
System for the production of hollow ice cubes.
ICE CUBE MAKERS FOR DICE-SHAPED ICE CUBES
---

Dice-shaped cubes and half dice-shaped standard size for rapid cooling of the drink in premises where ice is required.
Manufactured by high performance machines through vertical evaporator technology, they are capable of producing ice with a shorter cycle time and at a fast rate. Therefore, they are ideal for points of sale that need large volumes of ice.
In addition to large production levels, these devices are also compact in size, so they are generally used in fast food restaurants and in the health sector.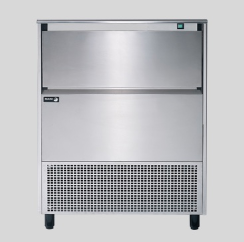 1
HIGH EFFICIENCY
High efficiency, certified
ICE MAKERS FOR GRANULAR ICE
---

These appliances produce granular ice through a vertical cylindrical evaporator system and high strength spindle. Granular ice can be of two types, dry granular ice suitable for cocktails and wet granular ice suitable for fishmongers, fruit shops, etc.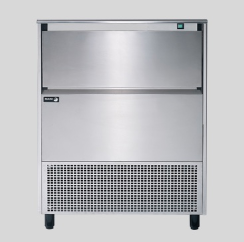 DEPOSITS FOR MODULAR ICE MAKERS
---
The ice deposits guarantee stock to ensure a necessary supply on the premises, storing the ice produced in times of low consumption for when peaks arrive and large quantities of ice are needed in a short space of time.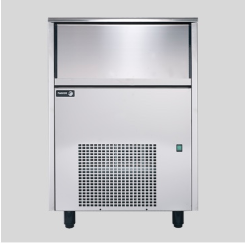 1
WIDE RANGE
We have a wide range of deposits to adapt to any ice machine. Each tank can carry one or two machines depending on the type of modular equipment we select.
2
PRESERVATION
Built from AISI-304 in stainless steel and high density insulation that enables the proper preservation of the ice.
Contact us
Are you interested in this product? Contact us for more information about this or other products.