Commercial Combi Ovens
Return to Ovens
PRODUCT FLEXIBILITY TO ACCOMMODATE ALL REQUIREMENTS AND SPACES
Remaining true to the Fagor Professional philosophy, the Advance generation commercial combi ovens have been designed to get the best out of every kitchen. We offer five sizes with varying features plus gas and electric options, which means that we can provide you with the solution that best matches your tastes and needs, whatever the type or size of your business.
9 REASONS TO CHOOSE AN ADVANCE GENERATION OVEN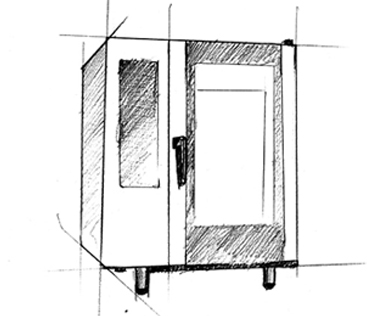 01
AN OVEN FOR EVERY PROFESSIONAL REQUIREMENT
Dozens of models, 5 sizes, 3 different ranges. Every professional requirement is met through a robust, resilient oven that is built to last.
02
EASY TO USE
Simplicity is first and foremost. Every function is at your fingertips. It also has self-explanatory interfaces, an ergonomic probe and an automatic self-cleaning system. Dozens of features that will make cooking easier than ever before.
03
EXCELLENT RESULTS, MINIMAL SHRINKAGE
Thanks to the powerful steam generator and optimum temperature distribution, Advance generation ovens achieve excellent cooking results with minimum shrinkage. More succulence, more uniform heat distribution and consistency and, above all, greater precision throughout the entire cooking process.
04
SAVINGS ON MAINTENANCE
The customer care and technical service has been improved to include systems and functions that enable the user to save time and money on after sales and maintenance services. Examples include the single maintenance access point, as well as applications for monitoring, configuration, maintenance and self-calibration, amongst others.
05
BETTER HYGIENE
In Advance generation ovens, the pure water steam is continuously replenished and combustion takes place outside the oven enclosure. The range also features several improvements with regards to food safety, such as the removable seal which runs across the entire range, or the fact that the shell of the oven is welded on the inside, which helps to prevent the build-up of dirt.
06
IMPROVED WORKING ENVIRONMENT
An oven opening system that is more convenient for the chef, a probe with an ergonomic grip, trolleys with enhanced manoeuvrability, soundless burners and better self-cleaning systems which undoubtedly make the work area safer and more comfortable.
07
DURABILITY
Advance ovens have undergone significant improvements in terms of their structure and transport system, including a new handle, double glazed door and double wheels, all of which guarantee a robust, resilient product that is built to last.
08
INCREASED PRODUCTIVITY
Advance generation ovens offer increased productivity over a smaller surface area. They can also be column mounted,improving kitchen versatility by offering more in a smaller space.
09
ENERGY EFFICIENCY
Fagor Professional remains firmly devoted to saving energy and the environment. Advance ovens are equipped with high-efficiency burners, which emit less CO2 and use resources more efficiently.
ROBUST AND RESISTANT OVENS THAT ARE BUILT TO LAST
Made entirely from austenitic stainless steel, with an AISI-304 stainless steel interior. The Advance generation excels in design and robustness.
ONE GENERATION, THREE RANGES
---
Contact us
Are you interested in this product? Contact us for more information about this or other products.